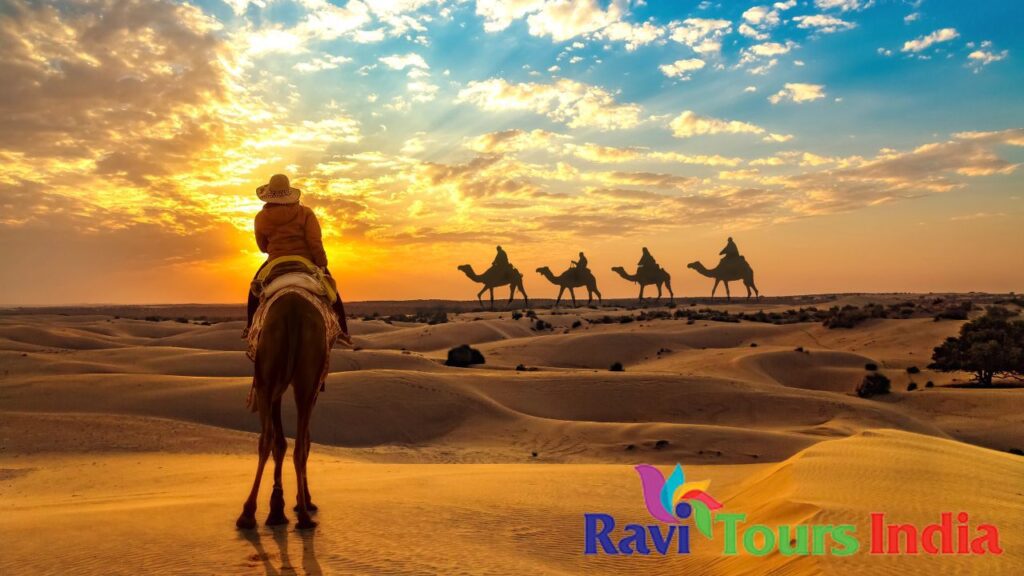 Nestled in the heart of the Thar Desert, Jaisalmer stands as a radiant jewel in the crown of Rajasthan, India's most captivating state. Aptly known as "The Golden City," Jaisalmer beckons visitors with its mesmerizing architecture, vibrant culture, and enchanting desert landscapes.
The Golden Fort: A Majestic UNESCO World Heritage Site
The most iconic landmark of Jaisalmer is undoubtedly the Jaisalmer Fort, also known as Sonar Quila or the Golden Fort. Rising majestically from the golden sandstone hills, the fort is a UNESCO World Heritage Site and a true architectural marvel. With its intricate carvings, ornate temples, and narrow winding lanes, the fort exudes an aura of timeless beauty.
Architectural Splendor: Exploring Jaisalmer's Exquisite Havelis
Beyond the fort, Jaisalmer is renowned for its exquisite havelis, which showcase the opulence and artistic finesse of Rajput architecture. The Patwon Ki Haveli, Salim Singh Ki Haveli, and Nathmal Ki Haveli are prime examples of this architectural splendour, with their intricate carvings, stunning facades, and intricate balconies.
Desert Adventures: Discovering the Charms of the Thar Desert
Jaisalmer's allure extends far beyond its historical treasures. The city is a gateway to the vast Thar Desert, where adventure and tranquillity coexist. A visit to Jaisalmer is incomplete without experiencing a desert safari, where you can ride on the back of a camel or drive through the dunes in a thrilling jeep safari.
Also read: 20 Best Things to Do in Rajasthan
Spiritual Retreats: Temples and Holy Sites in Jaisalmer
For those seeking a spiritual retreat, Jaisalmer offers a haven of tranquillity with its numerous ancient temples and holy sites. The Jain Temples within the fort complex are revered for their exquisite architecture and intricate marble carvings. The peaceful ambience of these temples provides solace and a spiritual respite from the bustling city.
Celebrating Culture: The Vibrant Desert Festival of Jaisalmer
Jaisalmer also hosts the famous Desert Festival, a vibrant extravaganza that showcases the rich cultural heritage of Rajasthan. During this three-day celebration, the city comes alive with folk music, dance performances, camel races, turban-tying competitions, and traditional craft exhibitions. It is an excellent opportunity to immerse yourself in the cultural tapestry of Rajasthan and witness the vibrant traditions come alive.
Warmth and Hospitality: Embracing the Local Culture in Jaisalmer
The warmth and hospitality of the people of Jaisalmer add an extra layer of charm to this golden city. Their friendly nature and welcoming demeanour make every visitor feel at home. Whether it's savouring the delectable Rajasthani cuisine, shopping for handicrafts, or engaging in conversations with the locals, the experience in Jaisalmer is both enriching and heartwarming.
Culinary Delights: Indulging in Rajasthani Cuisine
Jaisalmer offers a gastronomic delight with its rich Rajasthani cuisine. From the famous dal baati churma to the delectable ker sangri and gate ki sabzi, the flavours of Rajasthan come alive in Jaisalmer. Indulge in aromatic spices, mouth-watering sweets, and traditional dishes that tantalize your taste buds.
Also read: The Top 10 Must-Do Activities in Rajasthan
Shopping Extravaganza: Handicrafts and Artifacts of Jaisalmer
Jaisalmer is a shopper's paradise, with its bustling markets and exquisite handicrafts. From beautifully embroidered textiles and colourful puppets to intricate mirror work and camel leather products, the markets of Jaisalmer offer a treasure trove of traditional artefacts. Take home a piece of Jaisalmer's vibrant culture as a cherished memento.
Conclusion
Jaisalmer, the Golden City of Rajasthan, is a treasure trove of history, culture, and natural beauty. From its magnificent fort and enchanting havelis to the vast expanse of the Thar Desert, Jaisalmer offers a unique blend of architectural splendour, cultural vibrancy, and mesmerizing landscapes. A visit to this radiant city is an experience that will forever be etched in your memory, leaving you with a yearning to return and unravel its captivating mysteries once again. Whether you're planning a solo adventure, a family trip, or exploring with friends, Jaisalmer should be a highlight of your Rajasthan tour package. Embrace the allure of this golden city and embark on a journey that will enchant and captivate your senses.
Social Share