Best Car Rental Agency in Jaipur
If you are looking car rental agency in Jaipur to hire a car? Book cheap cars on rent in Jaipur for outstation & other purpose. Also, check our luxury, Suzuki Dzire, Toyota Etios & Innova (SUV) cars on rent in Jaipur services.
Car hire in Jaipur now becomes a peace of mind. Our online portal is one stop shop for Jaipur car rental.
Some of the popular car rentals booking in Jaipur
– Jaipur city tour (full day and half day)
– Domestic and International Airport transfer from Jaipur
– Railway Station transfer from Jaipur
– Jaipur Bus Station pick up and drop
– Jaipur outstation car booking with driver
– Car Hire for Marriage (Wedding) Ceremony in Jaipur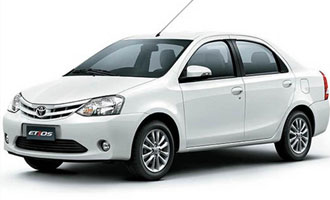 TOYOTA ETIOS
Toyota Etios you can travel in first class comfort and classic style.
Air Conditoned
Luggage 2 Suitcase 2 Bag
SWIFT DZIRE
Swift Dzire is a very convient and comfortable vehicle for small size family
Air Conditoned
Luggage 2 Suitcase 2 Bag
TOYOTA INNOVA
Toyota Innova world-class safety and superior styling offering a rare combination of luxury and practicality
Air Conditoned
Luggage 4 Suitcase 2 Bag
Tempo Traveler
It is the most suitable van for longer journeys Very comfortable
Air Conditoned
Luggage 8 Suitcase 8 Bag
Mini Coach
We offer 10 - 18 seater Mini Coach in Jaipur
Both A.C & NON-A.C VARIANTS AVAILABLE
First aid box, Music system, Ice box, Ample luggage space, Mobile Charger Point
TOYOTA CRYSTA
Toyota crysta world-class safety and superior styling offering a rare combination of luxury and practicality
Air Conditoned
Luggage 4 Suitcase 2 Bag
A  comfortable Air Condition Car having enough space for luggage including Fuel, Insurance, Toll Taxes, All State Taxes, Parking and all transport related expense.

All vehicle are well maintained and equipped with sufficient tools & spares etc.

Drivers lodging and boarding.

Our all drivers are well professional with tourist trade speak normal and fair English to communicate with you.




Car will be with you from your arrival till Departure and for all disposal.
For Jaipur Car Rental Service just logon to www.ravitoursindia.com(Jaipur Car Rental Agency)
Many of our clients just they reserve hotels by themselves and finally they just need a car and a good friendly professional driver to make there trvel in India as they desired. Since more then 69 different type of cars, mini buses and big Luxury Coaches are running in our organization for all our clients, We try to do work with perfection and want to take care or our clients and put attention very considerately.
Ravi Tours India is the India's largest online car rental agency. We have the largest number of fleet in Jaipur for Jaipur car rental. Ravi Tours India offers 24×7 hassle free car rental in Jaipur. Since I worked for the clients of Catai Tours, Banyan Tours, La Passage to India, Abercrombie Kent, Vintage Travel and many other big names as a Professional Tourist Taxi Driver many years for the people from all over the world so I personally select one of the best and safe drivers in my team for your services. We all are expert in defensive driving and geographically and able to speak many different local dialects to communicate with tribal people during your travel.
We are expert and do work in all the Northern and Southern part of India. Mostly our clients travel through following states and cities:- Rajasthan, Madhya Pradesh, Uttar Pradesh, Uttranchal, Himachal, Gujrat, Kerala, Tamilnadu, Agra(Taj Mahal), Orchha, Khajuraho, Varanasi (Ganges), Mandu, all the wildlife parks, Mumbai and many other more towns.
Get Jaipur Car Rental Services to Outstation Tours from Jaipur Car Rental Agency
One stop Jaipur car rental services for Outstation cab booking, Outstation car rental, Outstation Taxi in Jaipur at low cost. Book Outstation Cab Online, Hire Outstation AC Cabs in Jaipur and Taxi Hire for Outstation in Jaipur for Attractive Rates, Clean Cars, Courteous Drivers & Wifi enabled Transparent.
So, have you chosen your favorite tourist destination in India ? What's next? Decide on the mode of transport? Well, this can be really tricky! You do have several options in buses, trains and planes. But the best is none other than renting a car. For those who wonder why, the reason is pretty simple – Car rental for Outstation Trip & Taxi Hire in India lets you have multiple stop-overs, explore the far-flung areas of the places, and travel at your own pace and convenience.
Our popular tour packages:
Rajasthan With Varanasi Tour Packages
Jaipur Agra Tour Same Day Packages
Our online portal is one stop car rental company for Jaipur car rental. In Jaipur Ravi Tours India offers following types of car hire service: Airport Transfer in Jaipur. Car hire in Jaipur for local uses.
PLAN YOUR HOLIDAY TRIP IN JAIPUR TODAY ! WITH CAR RENTAL SERVICES