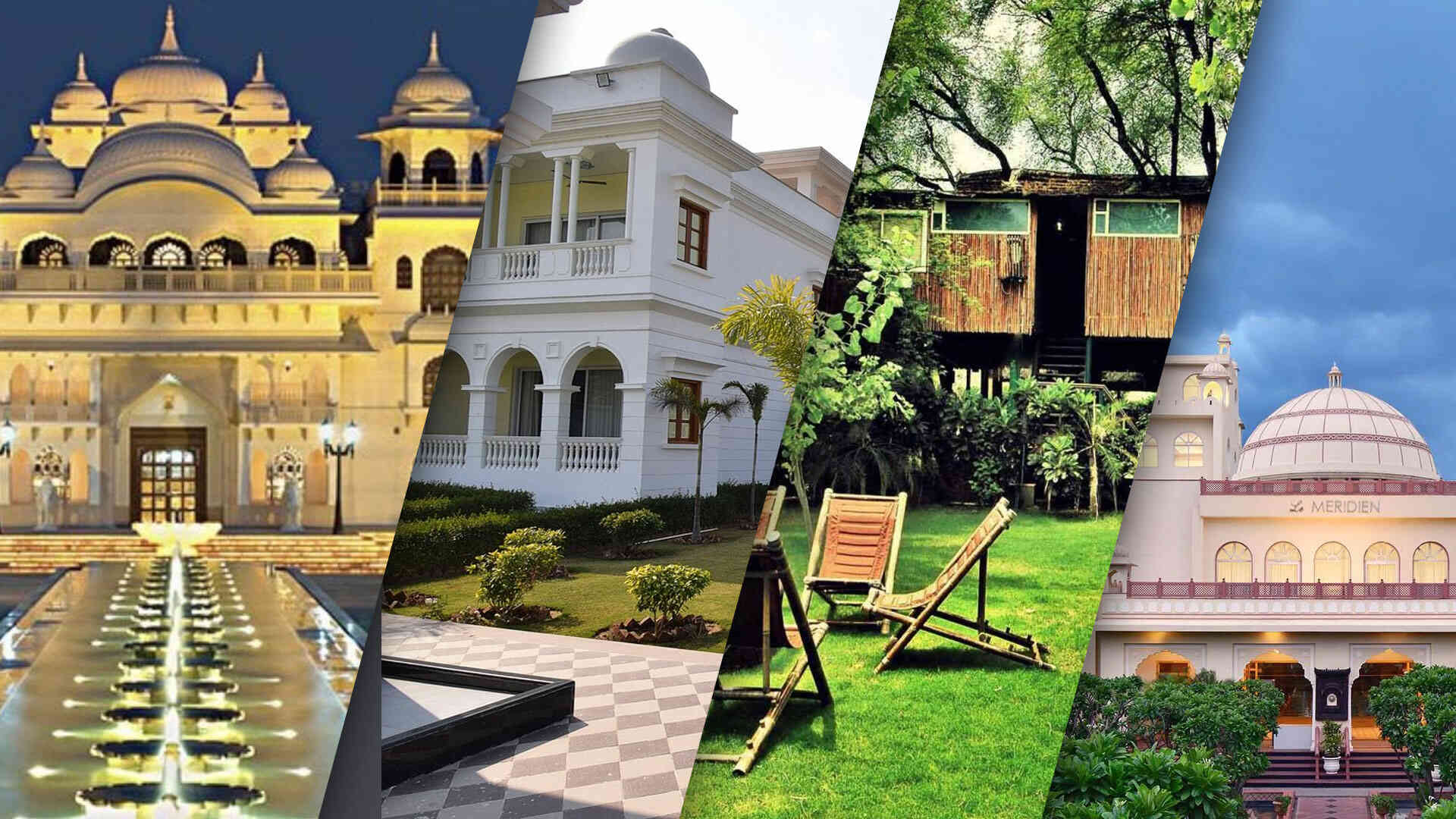 By the name Jaipur to things pink in your mind the pink City and the traditional historical culture. Being a growing city Jaipur is spreading its arms and getting bigger day by day. Jaipur has the power to attract tourists for longer stays, with its most expensive resources in Jaipur people do visit here for a single night stay to experience the luxury and take a peaceful, comfortable stay. Now Jaipur is not all about the pink city it is also popularly known as a resort hub.
We can see plenty of expensive resorts in Jaipur these days and many more to come. Some of them are The Leela Palace, Taj Ram bagh palace, the Oberoi Rajvilas, and many more which give you marvelous and extraordinary experience with their rich heritage culture. Let's check out the top 10 most expensive resorts in Jaipur which will make you stay at least once at their properties.
#1: Shiv Vilas Resort Jaipur
Jaipur is all about royal culture and traditions. If you want to enjoy this cultural tradition with a historical atmosphere then Shiv Vilas resort is the best for staying. It is especially famous for its wonderful surroundings and architecture. By staying here you are easily accessible to well-constructed roads which are connected to the famous places of Jaipur. This resort is situated on Jaipur Delhi Highway and it's been constructed as the most expensive resort in Jaipur. While talking about a comfortable and peaceful stay Shiv Vilas is a perfect place for you. With its unmatched hospitality, excellent interiors, modern services, and premium comfort you will have a perfect stay. Every room here has a view of sunrise and sunset which is a wonderful experience in itself. By the HRACC Ministry of Tourism India, this property is rated as 5 stars. With a wonderful view will have a perfect stay at Shiv Vilas.
#2: Umaid Farm Resort Jaipur
The resort is spread over 5 acres with a wonderful view of golden sunset and charming sunrise. By a Rathore family, this resort has been built. It's been the most expensive resort in Jaipur with a legacy vintage stay. Here you will find a huge outdoor space with a swimming pool, bars, ping pong table, and children's playground. Along with this, you will have Indore activities in terms of various board games. In every room or suite, you will get a private relaxing balcony. By HRACC Ministry of Tourism India, this property is rated as 4 stars.
#3: Crowne Plaza Resort Jaipur
You will find this place on Tonk Road Sita Pura industrial area which is the posh area of Jaipur. It's also an ideal place for royalty and a lavish experience in the city of royal Jaipur with well-designed rooms with wonderful hospitality. There are many recreational facilities available here like a gym, party hall, and kids zone. With a wonderful stay here you can also plan your birthday parties, seminars, birthdays, weddings, and social gatherings. By the HRACC Ministry of Tourism India, this property is rated 5 stars.
#4: Gold Palace Resort Jaipur
In 13 acres the land is covered which is an ideal destination for the tourist who visits Jaipur. It is perfectly designed as per mughal blends and Rajasthan architecture. The fountains at the front makes it more royal and give you the past beauty experience. This place will give you an experience of Raja Maharaja living standards as the accommodation here is luxurious and lavish. This is another expensive resort in Jaipur. The resort has been designed in a way that you can organize your business and personal events also. By the HRACC ministry of Tourism India, this property is rated 3 stars.
#5: Lohagarh Fort Resort Jaipur
To catch some quality time with your loved ones lohagarh fort resort is the best place among all. Among all the luxury resorts in the Jaipur lohagarh fort is the one that is awarded multiple times for its luxury boutique resort. This resort gives you a modern-day touch without compromising the authenticity of the royal traditional culture of Rajasthan. Here you will get accommodation in luxury suites, cottages, tree houses, private pool villas, tents, etc. As per your view side room requirement, you can choose any one of them. There are various facilities included in the resort that include breakfast, massage centers, spa, and many more along with this there are some traditional folk art Safari and other activities on the premises. By the HRACC Ministry of Tourism India, this property is rated as 5 stars.
#6: Tree House Cottages Resort Jaipur
While we talked about relaxation. We need a peaceful environment so here you are having a place where you can enjoy the calmness and peaceful environment. From the hustle and bustle crowd of the city, there is a wonderful place or you can say the most expensive resort in Jaipur that is the tree house cottages. This wonderful resort is situated in the lap of nature. To provide peace and calm to their visitors this place is when designed. For a weekend getaway, this is a wonderful place to stay as it is different from the tradition, royalty, and culture. It is all about natural beauty where your morning will start from the chirping birds and the view from the window is indescribable. In 3 ways or you can say in three types this resort has been classified for the accommodation that is deluxe nests, private suites, and luxury nests. All the necessary things have been covered and the rooms. By HRACC Ministry of tourism India this property is rated as a 4 star.
#7: Le Meridien Resort Jaipur
By the name itself it gives you an idea that you are talking about something rich and royal resort. This resort has an indo-islamic architecture construction for its building which gives a splendid marvel experience to the tourists. The thing that makes it more prominent for the tourist is its location which is very close to the famous Amer fort and city palace. The resort will give you all amenities like a luxury stay, an authentic taste of cuisine, a pampering spa , mini golf course, a pool view, car parking, a sauna, and very humble hospitality. By the HRACC Ministry of tourism India this property is rated as a 5-star for its architecture and beautiful living experience.
#8: Ram Bagh Palace Resort Jaipur
It was built in 1835 by the king of Rajasthan sawai man singh as a residential palace but in the course of time, it has been converted into the most expensive luxury resort in Jaipur. Being a residential palace of the king converted into a resort, one can imagine the grand scale and amenities this resort has to offer for its clients. It has been located in the heart of the city near prominent attractions in and around Jaipur. If you are looking forward to having an experience of a rich heritage and royal feeling among yourself then you must go through the hospitality of the ram bagh palace which will make you feel a home-like experience. It has played a gracious host to the celebrities like Lord Louis Mountbatten, Prince Charles, and Jacqueline Kennedy. By HRACC Ministry of Tourism India, this property is rated 5 stars.
#9: Samskara Resort Jaipur
With the lush surrounding landscape the rooms are designed with classic elegance. This resort is located in the lap of nature and being the most expensive resort in Jaipur people come here to detox. There are three categories of rooms: villas, luxury rooms, and suites. By HRACC Ministry of Tourism India, this property is rated 5 stars.
#10: Green Field Resort Jaipur
Away from city buzz this beautiful resort is spread in a large area with all necessary commodities. This resort offers you studio ros, private villas, premium rooms, and luxury suites. With grand living space, they offer you a private lido, a capacious cloakroom, and wonderful room views. Being the most expensive resort in Jaipur they understand their client requirements so they organize their corporate events and social events whether it's a small gathering or a huge gathering the resort staff takes care of. Best place at affordable prices. By HRACC Ministry of Tourism India this property is rated 3 stars.
There are various options available in resorts and as the city is developing day by day new properties are also getting developed with new ideas in design and hospitality. As the said decision is always yours we will guide you with the best and as per your budget will suggest the best. What actually matters is how much you enjoy your trip and stay.
We at Ravi Tours India are always there with the best budget able and comfortable options. So, don't think much, we are just a call away from the booking. Contact us for more information.
Our Tour Packages: Rajasthan Tour Packages, Rajasthan Tour Packages from Mumbai
Social Share