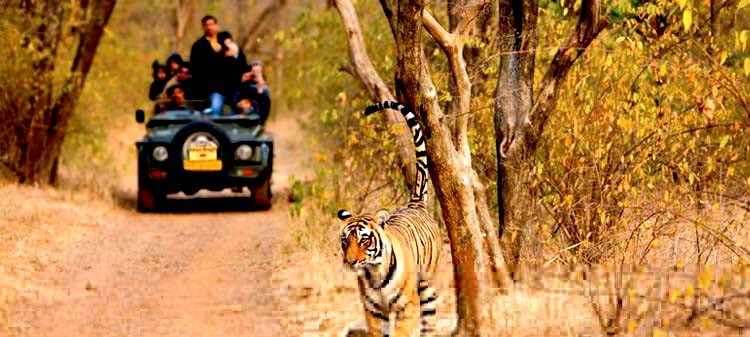 India is a dreamland when it comes to travel options. Its charming stops and attractions got it worldwide fame attracting numbers of tourists all through the year. A valuably elegant and noble natural destination of our nation is Ranthambore. Ranthambore is located in the desert land of Rajasthan and is renowned for its traveler attractions all across the globe. The site attracts a huge abundance of tourists each year due to its beautiful tourist attractions. Ranthambore Tour is amongst the most favored tours of people who go to Rajasthan from different parts of the world. It is among the Rajasthan popular places which are known globally for its fascinating combination of flora and fauna which are dispersed everywhere in the Park.
So if love wildlife, Ranthambore, a small hamlet in Rajasthan is beckoning your presence and it should be your prime place to tour while your proposed India holidays. 
Let's see what Ranthambore Tour Packages can offer:
Ranthambore National Park: It is a common hit attraction by tourists while their Ranthambore Tour because of its fascinating. This most famous attraction of Rajasthan Tourism is situated in the SawaiMadhopur district where numbers of tourists visit to get the most excellent sights of wildlife with the hilly roads of Aravalli Ranges. It is located at the juncture of the Vindhya and the Aravalli hill. Also one can witness the presence of the royal Bengal Tiger here which is indeed an experience worth taking. Daytime sightings can show you proper wildlife and allow you to enjoy nature as well. This wildlife sanctuary is also the abode of more than 300 species of birds, mammals of 40 species, and almost 30 reptile species.
JogiMahal: The JogiMahal is a wonderful forest rest house viewing the PadamTalab. It is located very near to the national park which allows complete amenities for a pleasant stay before Ranthambore Safari. Besides this, it is also known for its antique second-largest banyan tree in India. The excess natural views, pouring wild animals and flowers, fortresses, and temples draw numbers of tourists to Ranthambore.
Some of the other popular attractions of this place are RajBaghTalab, PadamTalab, Raj Bagh, Lakarda&Anantpura, and Malik Talab. Ranthambore Fort: This is a beautiful fort of Rajasthan which is located amidst the famed Ranthambore National Park. The fort is located 700 feet above the neighboring field and was established by the Chauhan leaders in the 10th century. Temples, huge gates, tanks, and heavy walls are the highlights of this fort that attract tourists throughout their visit to this place. This impressive fort had been captured by many rulers which makes it a traditional fort. Inside this fort, there are three Hindu temples devoted to Ramlalaji, Shiva, and Ganesh, which were constructed from red Karauli stone in the time between the 12th and 13th centuries. There is also a Jain temple of Lord Sambhavanath (3rd Jain Tirthankar) and LordSumatinath (5th Jain Tirthankar) within the bases which are visited in large numbers around the year.
On special demand from travelers, the Ranthambhore tour is attached to Golden Triangle Tour so that they can get the diversion of extrinsic nature along with manmade wonder constructions of Rajasthan. You can request your tour operators in Jaipur to arrange for this special tour as well. This is one of the best places in India to see Royal heritage at its best along with the true beauty of wildlife and natural treasures. Plan a trip and enjoy the regal vacation. This is something that you should think about. Traveling can be really amazing.
Social Share