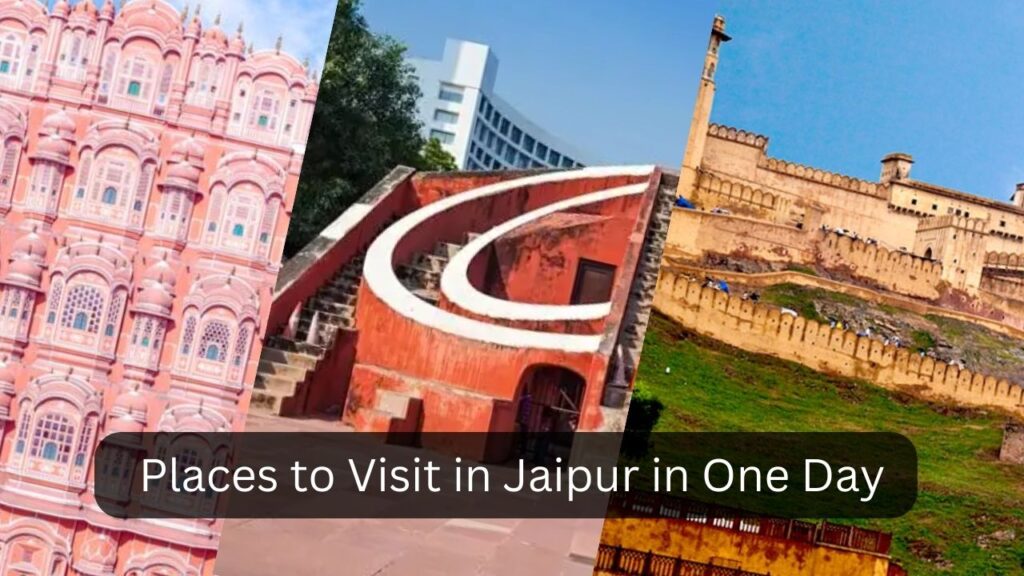 Jaipur, the capital city of Rajasthan, is known for its vibrant culture, magnificent architecture, and delicious cuisine. The city is a blend of modern and traditional India, making it a popular tourist destination. While Jaipur has plenty to offer for those with more time, there are still plenty of things to do and see in the city if you only have one day. In this article, we'll be highlighting the top 12 places to visit in Jaipur in one day, as well as some tips on where to eat, what to see, and what to buy.
Places to Visit in Jaipur in One Day
If you only have one day in Jaipur, then here are the top 12 places you must visit in Jaipur in one day.
1. Amer Fort
Amer Fort, also known as Amber Fort, is a magnificent architectural wonder that is an absolute must-visit when in Jaipur. Located on a hilltop overlooking the picturesque Maota Lake, the fort is an excellent example of Rajput architecture. The fort is known for its intricate designs and carvings, including stunning paintings and mirrorwork that adorn the walls and ceilings. The fort is also home to the Sheesh Mahal, or the Hall of Mirrors, which is a true sight to behold. The hall is decorated with thousands of tiny mirrors, which reflect light and create a mesmerizing effect. As you walk through the hall, you'll feel like you're walking through a starry night sky. A visit to Amer Fort is not only a trip back in time but also a visual feast for the senses.
2. City Palace
City Palace is another must-see when in Jaipur. The palace was built in the 18th century and is a blend of Rajasthani and Mughal architecture. The palace is home to several courtyards, gardens, and museums, including the Textile Museum and the Armoury Museum.
3. Hawa Mahal
Hawa Mahal, also known as the Palace of Winds, is a five-story palace that is a hallmark of Jaipur's architecture. The palace was built in 1799 and has 953 small windows, or jharokhas, which were designed to allow the royal ladies to observe the street below without being seen.
4. Jantar Mantar
Jantar Mantar is a UNESCO World Heritage Site and is a collection of nineteen architectural astronomical instruments. The instruments were built by the Rajput king Sawai Jai Singh II and were used to measure time, predict eclipses, and track stars.
5. Albert Hall Museum
Albert Hall Museum, also known as the Central Museum, is a must-visit for history buffs. The museum was built in 1876 and is the oldest museum in Rajasthan. The museum's collection includes ancient coins, sculptures, and arms and armor.
6. Jal Mahal
Jal Mahal, or Water Palace, is a palace located in the middle of Man Sagar Lake. The palace was built in the 18th century and is a stunning example of Rajput architecture. While visitors aren't allowed inside the palace, it's still worth a visit to admire the palace's beauty.
7. Birla Mandir
Birla Mandir, which is also known as the Laxmi Narayan Temple, is a stunning Hindu temple that is dedicated to Lord Vishnu. The temple is one of the most popular tourist attractions in Jaipur, and it's easy to see why. The temple's architecture is breathtaking, and it stands out from the other temples in Jaipur because it is built entirely of white marble. The temple's grandeur is a testament to the devotion and dedication of the Birla family, who built the temple in the early 1980s.
The temple is surrounded by beautifully landscaped gardens, which add to the serenity and peacefulness of the place. As you walk through the temple, you'll be struck by the intricate carvings and sculptures that adorn the walls and ceilings. The temple is also home to several idols and deities, including Lord Vishnu and Goddess Laxmi, who are the primary deities worshipped at the temple.
Visitors to the temple can take part in various religious ceremonies and rituals, which are conducted by the temple priests. The temple is open to people of all faiths, and it's a great place to gain an understanding of Hindu culture and traditions. If you're looking for a peaceful place to escape the hustle and bustle of the city, then Birla Mandir is the perfect place to visit.
8. Nahargarh Fort
Nahargarh Fort is located on the Aravalli hills and offers breathtaking views of the city. The fort was built in the 18th century and was used as a hunting retreat by the Rajput kings. The fort also has a restaurant where you can enjoy a meal while taking in the stunning views.
9. Johari Bazaar
Johari Bazaar is a must-visit for shoppers. The bazaar is known for its wide variety of jewellery, including precious and semi-precious stones. You can also find traditional Rajasthani clothing, textiles, and handicrafts in the bazaar.
10. Bapu Bazaar
Bapu Bazaar is another popular shopping destination in Jaipur. The bazaar is known for its textiles, handicrafts, and traditional footwear, including mojari shoes. You can also find souvenirs and spices in the bazaar.
11. Chokhi Dhani
Chokhi Dhani is a cultural village that offers visitors a glimpse into Rajasthani culture and traditions. The village has a restaurant that serves traditional Rajasthani food, as well as cultural performances and activities like camel rides and henna painting.
12. Lassiwala
No visit to Jaipur is complete without trying the famous lassi at Lassiwala. The shop has been serving its signature sweet lassi for over 70 years and is a favourite among locals and visitors alike.
FAQs
1. Can I visit all the places in Jaipur in one day?
While it's possible to visit all the places mentioned in one day, it can be quite a hectic schedule. We recommend prioritizing the places you want to visit and planning your day accordingly.
2. What's the best time to visit Jaipur?
The best time to visit Jaipur is from October to March when the weather is pleasant and mild.
3. Is Jaipur safe for solo travelers?
Jaipur is generally safe for solo travelers, but it's always recommended to take precautions and stay aware of your surroundings.
4. What should I wear when visiting religious places in Jaipur?
When visiting religious places in Jaipur, it's recommended to dress modestly and avoid revealing clothing. You may also be required to remove your shoes before entering some places.
5. What's the best way to get around Jaipur?
The best way to get around Jaipur is by hiring a taxi or taking a guided tour. You can also use ride-sharing apps like Uber and Ola.
6. What's the currency used in Jaipur?
The currency used in Jaipur is the Indian rupee.
Conclusion
Jaipur is a city with a rich cultural heritage and history, and if you only have one day to explore, there are plenty of places to visit and things to do. One great way to make the most of your time in Jaipur is to consider renting a car from a reputable Car Rental Agency in Jaipur. This way, you can easily travel from one attraction to another without wasting any time.
From the majestic Amer Fort to the vibrant shopping scene in Johari Bazaar, Jaipur has something for everyone. However, with so many options, it's important to prioritize your itinerary and plan accordingly to ensure that you get the most out of your one day in the city. Some other must-visit places in Jaipur include the Hawa Mahal, Jantar Mantar, and City Palace. These attractions offer a glimpse into Jaipur's rich history and architecture.
In addition to visiting these famous landmarks, make sure to take some time to indulge in Jaipur's delicious cuisine. The city is famous for its mouth-watering delicacies, including dal bati churma, laal maas, and gatte ki sabzi, among others. Don't forget to try some of Jaipur's famous street food, including kachoris and samosas.
Social Share